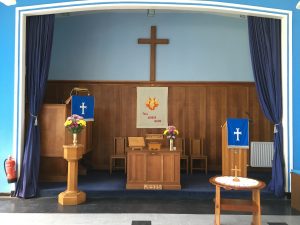 At St Margaret's we hold regular services of worship on Sundays at 10.00am and 6.00pm.
Our services take the conventional form of Hymns, Prayers and a Sermon/Address. Services are conducted by our Minister when she is available. At other times services are led by visiting preachers or church elders.
We also have a Worship Group made up from elders and church members who regularly lead Sunday morning services.
As well as Sunday worship, throughout the year we also hold special services on Maundy Thursday (7.00pm), Good Friday (10.00am), Christmas Eve (11.30pm) and Christmas Day (10.00am).
St Margaret's, along with 4 other churches, is part of the 'Churches Together in Harton' group of Churches. The five churches come to worship together in joint ecumenical services that are held, hosted by each church in turn, about every three months. 
We are a friendly and inclusive church and we wish to extend a very warm invitation to all who wish to come to any of our services.